Nach einer kompletten Restrukturierung des Unternehmens gab King's Bay Gold Corp. (operiert unter dem Namen "King's Bay") heute bekannt, das Lynx Lake Grundstück im kanadischen Labrador zu akquirieren. Bis zum Jahr 2008 wurde das Grundstück als zu abgelegen betrachtet, um Explorationsarbeiten durchzuführen.
2008 baute das Department of Transportation die neue Schnellstrasse namens Trans-Labrador Highway, die nun durch das Grundstück verläuft und es somit gut zugänglich macht. Als im gleichen Jahr auf dem Grundstück Sprengungen stattfanden, um Gestein für den Strassenbau zu liefern, wurde disseminierte und massive Mineralisation entdeckt.
2009 entnahmen lokale Prospektoren Gesteinsproben aus diesem Steinbruch in der östlichen Hälfte des Grundstücks und die Laborergebnisse zeigten bis zu 0,95% Cobalt, 1,39% Kupfer, 0,21% Nickel und 6,5 g/t Silber.
2014 untersuchte die Regierung die Region mit einer geringauflösenden Magnetikstudie, während lokale Prospektoren mit einer tragbaren Elektromagnetikuntersuchung leitfähige Strukturen unterhalb der Deckschicht auf dem Grundstück entdeckten.
2015 wurden Gesteinsproben auch im westlichen Teil des Grundstücks entnommen und die Laborergebnisse erzielten bis zu 0,57% Cobalt, 1,03% Kupfer, 0,1% Nickel, 0,36% Chrom, 0,39% Molybdän, 0,23% Vanadium und 5 g/t Silber.

Obwohl auf dem Grundstück noch nie Bohrungen stattfanden, indizieren die Laborergebnisse von erdoberflächennahen Gesteinsproben sowohl in der östlichen als auch westlichen Grundstückshälfte das mögliche Vorhandensein eines grossen Erzkörpers in geringer Tiefe. Dank exzellenter Strassenanbindung zu einem Tiefseehafen, einer Starkstromleitung direkt auf dem Grundstück und die Nähe zur Stadt Happy Valley-Goose Bay, glaubt King's Bay, dass nun die perfekte Zeit ist, um dieses aussichtsreiche Grundstück zu explorieren – inmitten stark ansteigender Energiemetallpreise, allen voran das batteriekritische Element Cobalt.
Das Lynx Lake Grundstück geniesst den Vorteil der direkten Anbindung an den Trans-Labrador Highway (siehe links auf dem Foto hierüber) und dem Vorhandensein einer Starkstromleitung auf dem Grundstück (siehe rechts auf dem Foto hierüber). Der The Trans-Labrador Highway geht bis zu einem Tiefseehafen (siehe Karte hierunter).
Nachdem über Cobaltprojekte weltweit, und insbesondere in Nord-Amerika, recherchiert wurde, kam Rockstone zur Feststellung, dass das Lynx Lake Projekt eines der besten Projekte im Frühstadium ist, und zwar mit einer realen Chance, eine signfikante Entdeckung mit einem Bohrprogramm zu machen.
Obwohl Laborergebnisse von erdoberflächennahen Gesteinsproben nicht mit Ressourcen-, Reserven- oder gar Produktionsgehalten verglichen werden können, so sind die Ergebnisse (0,94% Cobalt, 1,39% Kupfer, 0,21% Nickel, 0,23% Vanadium, 0,39% Molybdän, 0,0112% Bismuth und 6,5 g/t Silber) vom Lynx Lake Grundstück dennoch ein Indiz, was ein Bohrprogramm entdecken kann.
Ram Gold-Cobalt-Kupfer-Lagerstätte
Besitzer: eCobalt Solutions Inc. (TSX: ECS; Marktkapitalisierung: $59 Mio. CAD)
Standort: Idaho, USA
Measured & Indicated Ressource:
0,53 g/t Gold
0,55% Cobalt
0,75% Kupfer
NICO Gold-Cobalt-Bismuth-Kupfer-Lagerstätte
Besitzer: Fortune Minerals Ltd. (TSX: FT; Marktkapitalisierung: $38 Mio. CAD)
Standort: Northwest Territories, Kanada
Proven & Probable Reserven:
1,03 g/t Gold
0,11% Cobalt
0,14% Bismuth
0,04% Kupfer
Voisey's Bay Kupfer-Cobalt-Lagerstätte
Besitzer: Vale S.A. (NYSE: VALE;
Marktkapitalisierung: $35 Mrd. USD)
Standort: Labrador, Canada
Produktionsgehalte:
0,85% Kupfer
0,09% Cobalt
Exploration
Die Arbeit auf dem Lynx Lake Grundstück ist ganzjährig möglich und King's Bay hat bereits ein Team entsandt, um in den existierenden Steinbrüchen weitere Gesteinsprobenahmen von der Erdoberfläche zu entnehmen und über dem umliegenden Land ein Explorationsprogramm mitsamt einer elektromagnetischen EM-16-Messung durchzuführen. Diese Maßnahmen sollen der Lokalisierung zusätzlicher, bislang unentdeckter Ausbisse und leitfähiger Strukturen dienen. Im Winter werden im Anschluss an das anfängliche Programm eine Datenerhebung und eine geophysikalische Flugmessung zur Abgrenzung der vorrangigen Bohrziele folgen.
Mineralisation
Ursprünglich gab es auf dem Grundstück kaum bis keine Lagerstättenanzeichen, was sich jedoch mit dem Bau vom Trans-Labrador Highway änderte. Mit nun exzellentem Grundstückszugang und neuen Entdeckungen von Mineralisation im Grundgestein bietet das Projektgelände grosses Explorationspotential. Erdoberflächennahe Gesteinsprobenahmen von Oxidationszonen ("gossanous areas") in den Steinbrüchen haben Mineralisationsgehalte von bis zu 1,39% Kupfer, 0,94% Cobalt, 6,5g/t Silber, 0,21% Nickel und 0,23% Vanadium erzielt. Adern aus massiven Sulphiden können an diesen Stellen ebenfalls erkannt werden. Molybdänit wurde auch in der westlichen Grundstückshälfte mit Gehalten von 0,392% Molybdän entdeckt, sowie 112 ppm Bismuth. Eine zuvor von Prospektoren durchgeführte VLF-Geopyhsikuntersuchung hat zudem Leiter ("conductors") bzw. leitfähige Strukturen unterhalb der Deckschicht auf mehreren Grundstücksteilen von bereits kartiertem Granit indiziert. Das Grundstück bietet somit signifikantes Explorationspotential für eine abbauwürdige Lagerstätte vom Typ magmatisches Kupfer-Cobalt-Nickel oder IOCG.
Geologie
Das Lynx Lake Grundstück befindet sich in der geologischen Grenville-Provinz und stammt aus dem Proterozoikum. Eine nach Nordosten streichende Verwerfung verläuft durch das Grundstück. Der westliche Teil des Grundstücks ist von Granit, Granodiorit und Gneis unterlagert, deren Beschaffenheit von schwacher Schieferung bis zu ausgeprägter Bänderung reicht. Der östliche Bereich des Grundstücks ist von Granit-, Amphibolit- (mit massivem Gabbro), Norit- und Troktolitheinheiten unterlagert. Eine eingehende Kartierung des anstehenden Gesteins wird einem besseren Verständnis der geologischen Gegebenheiten in diesem Gebiet dienen.
---
Über Cobalt
Der aktuelle Anstieg der Cobaltpreise ist auf eine Kombination verschiedener Faktoren zurückzuführen, von denen sich einige aus der angespannten Lage in Gebieten wie der Demokratischen Republik Kongo, wo ein Grossteil des weltweiten Cobalts gewonnen wird, ergeben.
Die steigende Nachfrage nach wiederaufladbaren Batterien trägt ebenfalls zu diesem Anstieg bei. Eine einzige wiederaufladbare Lithium-Ionen-Batterie für Elektrofahrzeuge enthält bis zu 20 kg Cobalt.
Cobalt kommt neben Batterien auch als Legierung für Flugtriebwerksteile bzw. als Legierung in Anwendungen mit hohen Korrisonsbeständigkeits- und Verschleissfestigskeitsanforderungen zum Einsatz.
Cobalt wird zudem auch vielfach in der Medizin verwendet; Cobaltisotope werden zur Erzeugung von dichromatischer Strahlung in sog. Cobaltkanonen zur Behandlung von Krebserkrankungen eingesetzt. Molybdän ist ebenfalls von grossem Interesse und findet Anwendung u.a. als Düngemittel und als Elektrodenmaterial in Batterien (Quelle: King's Bay).
-- By 2020, cobalt use in battery applications alone could be greater than the entire world market for refined cobalt in 2015.
-- 10-20 kg of cobalt inside a typical lithium-ion car battery (up to 60% cobalt by weight)
-- Battery usage accounts for 49% of cobalt demand
-- Between 47-65% of mined cobalt is sourced from the Congo
-- China refines 52% of the world's cobalt
-- Significant cobalt is also mined from nickel-cobalt laterite deposits, which have higher capital and processing costs relative to sulphide deposits
Cobalt resource and reserve base have not changed over the past decade with over 50% of cobalt reserves located in the African Copper Belt in the Democratic Republic of the Congo (DRC) and Zambia (Source: CRU). The next largest source of cobalt comes from Australia, Cuba, South East Asia and Pacific in the form of nickel laterites. Cobalt is also found in Canada, Russia and Western Australia in nickel sulphide deposits. Due to the nature of these deposits, cobalt production is generally a byproduct of nickel and copper mines. Currently 60% of cobalt production comes from copper mining, 38% from nickel operations and only 2% are primary cobalt mines located in Morocco and Uganda (Source: CRU).
Production of cobalt from primary cobalt mines are not affected by nickel and copper prices. Weak nickel and copper prices have negatively impacted cobalt supply due to the suspension and closure of a number of large nickel and copper projects including Glencore/Katanga Mining (representing 10% of global cobalt metal supply), Votorantim, ERG/Chambishi, Norilsk Nickel, and Queensland Nickel (Source: Darton).
Approximately 65% of the world cobalt supply is mined from the DRC with 69,200 tonnes produced in 2015 (Source: Darton). Despite the reduction in cobalt production related to nickel and copper projects, total cobalt output from the DRC increased by 9% in 2015 and this was due to increase in cobalt production from artisanal mining (Source: Darton). Artisanal mining accounts for approximately 22% of total cobalt production from the DRC. Supply from artisanal production is expected to taper off as easily accessible high grade reserves get depleted. Current low cobalt prices make artisanal mining less profitable and this may also impact artisanal mining output. In addition, Amnesty International published a report in January 2016 titled "This Is What We Die For" which exposes abuses of the human rights, safety and environmental issues related to artisanal mining in the DRC. The article also made allegations against global technology companies for using cobalt sourced from artisanal mining supply, highlighting the importance of supply chain management and traceability of the sourcing raw materials. This may also result in regulation changes relating to artisanal mining activities in the DRC (Source: eCobalt).
China is the largest importer of cobalt raw materials estimated at 65% or 59,223 tonnes of world supply in 2015 (Source: Darton). Approximately 94% of Chinese import comes from cobalt contained in intermediates such as crude hydroxide produced in the DRC (Source: Darton). In turn, China is also the largest producer of refined cobalt with a 9% growth in production in 2015 representing 52% or 48,500 tonnes of world production. This growth is predominately driven by demand from downstream markets. This growth forces Chinese biggest refiners and producers to expand and aggressively acquire cobalt assets. This was demonstrated by China Molybdenum's acquisition of Freeport McMoRan Inc.'s Tenke Fungurume flagship copper-cobalt asset in the DRC for US$2.65 billion in April 2016. In addition to this acquisition, China Molybdenum also has the option to acquire Freeport's Kisanfu project in the DRC and its interest in the Kokkola Cobalt Refinery in Finland for US$100 million (Source: eCobalt).
As a result of increase in demand and reduction in supply of cobalt, overall supply demand balance is forecasted to progressively tighten over the medium and long term with minimal prospects of new cobalt projects coming into production within the next decade. Demand for metallurgical cobalt will continues to grow against supply even though there is a small surplus in metallurgical cobalt supply. Significant increase in demand of non-metallurgical or cobalt chemicals used in rechargeable batteries will cause deep deficit. The combined effect is expected to result in a projected deficit of greater than 10,000 tonnes annually by 2020. Historically, metallurgical supply demand balance has the most impact in setting market cobalt price and this tends to also influence the price of non-metallurgical or cobalt chemicals. The serious deficit expected in the non-metallurgical or cobalt chemicals may change these market dynamics (Source: eCobalt).
The Idaho Cobalt Project (ICP) is the only primary cobalt deposit located in the United States that is near term and fully environmentally permitted. Once in production, North American consumers will have access to an ethically sourced, environmentally sound, transparent supply of high purity cobalt chemicals, produced safely and responsibly in the United States. Retail consumers will not have to be concerned they're using a product unethically mined by children in the DRC (Democratic Republic of Congo) and Industrial consumers can enure their supply is not reliant upon nickel and copper by-products which currently make up 98% of the worlds cobalt supply. Only 2% of the worlds cobalt comes from primary cobalt deposits (Source: eCobalt).
---
Is cobalt the 'choke point' for future lithium battery production?
By James West of Midas Letter on October 20, 2016
Cobalt is so critical in the lithium ion battery supply chain that companies are eager to look outside the Democratic Republic of Congo for a more secure source of the mineral, says Simon Moores, of Benchmark Market Intelligence.
"I think cobalt is the most critical of the battery raw materials," he said an interview at this week's Benchmark Mineral Intelligence world tour held at Toronto's National Club. "I don't think it's necessarily the most important. I think that's actually lithium. But cobalt, really, because 66 per cent comes from the DRC (Democratic Republic of Congo), then you've basically got a very lopsided industry from the supply perspective."
Any problems with cobalt delivery will create problems downstream for manufacturers like Apple and Tesla who will look for other sources, said Moores...
Pressure is mounting globally from human rights groups who point to the widespread use of child labour in the DRC, and the forced relocation of entire villages without consent that is commonplace by mining companies supported by the government. DRC is ranked 4th in the world by Verisk Maplecroft, a global risk analytics, research and strategic forecasting company based in the U.K. According to them, cobalt is poised to become labelled as the world's next "conflict" mineral.
Many artisanal miners working semi-legally operate in extremely dangerous conditions, and Maplecroft's analysts say while increased supervision over the Congo's mining industry could result in companies having elevated costs due to reputational damage and the need to provide additional reporting, existing regulations have proven difficult to enforce and as such they are unlikely to really impact the sector.
Moores says that the added risk constitutes a "corporate social responsibility" (CSR) problem that is likely to see battery producers prefer cobalt sourced outside of the DRC if it is available. For companies like Cruz Capital, that implies an opportunity that few other junior miners have been able to take advantage of.
"Any problems, geopolitical or otherwise, within the Congo and/or China, will definitely affect the rate at which cobalt is produced," said Nelson, pointing out that all of his company's cobalt properties are located within North America."
Simon Moores from Benchmark Mineral Intelligence says that cobalt is the most critical of the battery elements, creating opportunities for companies that can offer a more secure source. Click on below image (or here) to watch the interview with Simon Moores:
---
---
Unternehmensdetails
King's Bay Gold Corp.
Suite 1450 – 789 West Pender Street
Vancouver, B.C. V6C 1H2 Kanada
Telefon: +1 604 681 1568
Email: brad@kingsbayres.com
www.kingsbayres.com

Aktien im Markt: 28.256.123
Kanada-Symbol (TSX.V): KBG
Aktueller Kurs: $0,085 CAD (26.10.2016)
Marktkapitalisierung: $2 million CAD
Deutschland-Kürzel / WKN (Frankfurt): KGB1 / A2AN0E
Aktueller Kurs: €0,053 EUR (26.10.2016)
Marktkapitalisierung: €1 Mio. EUR
---
Bleiben Sie auf dem Laufenden!
Für Smartphones und Tablets veröffentlichte Rockstone eine App im AppStore und im GooglePlayStore.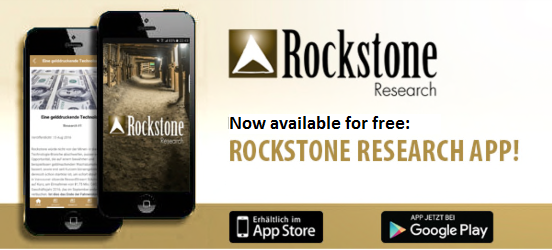 Zimtu Capital Corp. hat vor kurzem die Beta-Version ihrer Börsen-APP zur Verfügung gestellt, in der alle Aktien, die sowohl in Deutschland als auch Kanada börsengelistet sind, verfolgt werden können. Nach einer kostenlosen Registrierung werden die vollen Funktionen freigeschaltet, wie z.B. Sortierung aller Aktien mit den grössten Handelsvolumina an allen deutschen oder kanadischen Börsen: www.zimtuadvantage.com
Siehe auch neuen Rockstone Report über die Zimtu Advantage App hier.
Disclaimer: Bitte lesen Sie den vollständigen Disclaimer im vollständigen Research Report als PDF (hier), da fundamentale Risiken und Interessenkonflikte vorherrschen.