Heute machte True Leaf Medicine International Ltd. (CSE: MJ; WKN: A14NM1) eine substantielle Bekanntmachung, in der die Vermögensgegenstände und gewerbliche Urheberrechte von OregaPet® akquiriert werden sollen. Es ist eine in preisgekrönte, kanadische Marke mit medizinischen Produkten für Haustiere, die ihren Sitz in der Stadt Vernon in British Columbia hat.
Das familiengeführte Unternehmen betreibt seit nunmehr schon 20 Jahren Forschung über Oreganos etherische Öle. Ihre Leidenschaft für dieses pflanzliche Extrakt hat zur Entwicklung der OregaPet® Produktreihe geführt.
Produkte von OregaPet® können nicht nur online von unzähligen Distributoren gekauft werden, sondern befinden sich auch in den Verkaufsregalen im Einzelhandel seit zahlreichen Jahren. Somit generiert die Firma bereits Umsätze, die nun von True Leaf verbucht werden. Das Unternehmen beabsichtigt, die Transaktion zum 1. Januar 2017 abzuschliessen, woraufhin aufgefrischte True Leaf Pet Markenprodukte Anfang 2017 in den kanadischen und US-amerikanischen Markt eingeführt werden sollen.
OregaPet® ist die erste und einzige Marke, die im weltweiten Handel erhältliche Marke, welche die Heilkraft von Ölen des Oreganos in speziell für Haustiere entwickelten Produkten nutzt. Die Effizienz von Oregano-Öl ist weithin bekannt – am Gebräuchlichsten zur Vorsorge bei Anzeichen einer Erkältung. Das pflanzliche Öl ist für seine antiviralen und antimikrobiell, mit dem Infektionen behandelt werden können.
Die Produktlinie von OregaPet hat Anerkennung in der Branche aufgrund der Qualität und Innovation erhalten. Das OregaPet® Bett- und Körperspray ("Bed & Body Spray") wurde 2016 von NationalNutrition.ca für das 'Bestes Tierprodukt' ausgezeichnet und OregaPet® Oregano-Öl hat 2013 die Auszeichnung "Alive® Consumer's Choice Silver Award" für das 'Beste neue Produkt' verliehen bekommen.
True Leaf CEO Darcy Bomford kommentierte heute:
"Wir haben hier Potential erkannt und die Gelegenheit ergriffen, diese Marke zu erwerben. Das mit Oregano-Öl formulierte Produktangebot ist eine ideale Ergänzung unserer True Leaf Pet Ergänzungsmittel und unterstützt unseren Anspruch, Menschen und Haustieren eine bessere Lebensqualität zu bieten. Verbraucher suchen nach Alternativen zu starken Medikamenten und wir halten das mehrfach ausgezeichnete Angebot an natürlichen medizinischen Produkten von OregaPet® für eine wirkungsvolle und gefragte Alternative."
Für True Leaf sind dies heute sehr starke News, da die Gesamtumsätze schlagartig auf ein neues Niveau gehievt werden. Da die OregaPet® Produkte aktuell nur in Kanada vertrieben werden, zielt True Leaf mit Markteinführungen in den USA und Europa darauf ab, die Umsätze weiter zu erhöhen.
OregaPet® hat die Heilkräfte dieses einzigartigen natürlichen Wirkstoffs bei der Formulierung eines umfassenden Produktsortiments, das Zahnpflegesnacks, Zahnpasta, Zahnpflegespray, Ohrenreinigungsmittel, Brand- und Wundgel, Bett- und Körperspray und Shampoo umfasst, bewahrt.
---
Internal Use of Oregano: An Exploration (source)

Oil of oregano rivals modern antibiotic drugs
By Bill Sardi, health journalist at www.askbillsardi.com
Oil pressed from oregano leaves that contain the active ingredient carvacrol may be an effective treatment against sometimes drug-resistant bacterial infection. Georgetown University researchers have found that oil of oregano appears to reduce infection "as effectively as traditional antibiotics."
Oil of oregano at relatively low doses was found to be efficacious against Staphylococcus bacteria and was comparable in its germ-killing properties to antibiotic drugs such as streptomycin, pencillin and vancomycin. [Science Daily 10/11/2001]
The findings were presented by Harry G. Preuss, MD, professor of physicology and biophysics, Georgetown University, at the American College of Nutrition'a annual meeting in Orlando, Florida. The oregano oil was obtained from North American Herb and Spice Company, a Waukeegan, Illinois company that sponsored the study and markets their non-prescr*iption products in retail stores un the trade names Oregamax and Oregacyn.
Earlier this year researchers at the Department of Food Science at the University of Tennessee reported that, among various plant oils, oil of oregano exhibited the greatest antibacterial action against common pathogenic germs such as Staph, E. coli and Listeria. [Journal Food Protection, Volume 64, July 2001]
Last year British researchers reported oregano oil had antibacterial activity against 25 different bacteria. [Journal Applied Microbiology, Volume 88, February 2000] A clinical study in Italy has shown that oil of oregano can be used to treat intestinal parasites. [Phytotherapy Research, Volume 14, May 2000]
The body of positive evidence for oregano oil as a major antibiotic is growing. Among 52 plant oils tested, oregano was considered to have "pharmacologic" action against common bugs such as Candida albicans (yeast), E. coli, Salmonella enterica and Pseudomonas aeruginosa. [Journal Applied Microbiology, volume 86, June 1999] Pseudomonas is a type of germ that is getting more difficult to treat as it has developed strains that are resistant against antibiotic drugs.
Of recent interest are reports showing that carvacrol from oil of oregano kills spores, such as Bacillus cereus and Bacillus anthracis (anthrax). [Archives Microbiology, Volume 174, October 2000; Quarterly Review Biology, Volume 73, March 1998] Bacillus cereus is considered to be from the same species as Bacillus anthracis (anthrax). [Applied Environmental Microbiology, Volume 66, June 2000] In tests of antibiotics and antiseptics, Bacillus cereus is often used in studies in lieu of the anthrax strain. [University of Michigan News & Information Service, Sept. 23, 1998]
Oil of oregano is not to be confused with common oregano in the kitchen spice cupboard, which is usually marjoram (Origanum majorana) rather than true oregano (Origanum vulgare).
The growing problem of antibiotic resistance has health authorities concerned. Already various germs are showing resistance to vancomycin, particularly to intestinal bacteria (Enterococcal species) among hospitalized patients. [Southern Medical Journal, Volume 94, August 2001] Vancomycin is considered to be the most potent antibiotic available and is withheld from use as a drug of last resort. Vancomycin costs about $16 per pill versus about $1 for the purest-strength oregano oil. Drug resistance does not develop against naturally-occuring antibiotics such as garlic and oil of oregano. Source
Oregano proves to be natural bacteria killer
By Thomas Logemann on ProgressiveDairy
Since the 1950s, scientists have known about the medical efficacy of certain plants. Still, they only found their way into modern livestock farming about 10 years ago. Today, they are not just found in the organic sector.
However, hardly any plant is useful simply fresh from the field or dried. The plants are generally elaborately distilled or fermented in order to extract the essential oils as a base for a suitable organic compound.
In the laboratory, the inhibition zone test delivers proof of efficacy: The larger the clear circle, the more effective the compound.
In objective comparative tests with several natural compounds, prepared oregano was proven to be the most effective biological agent.
The oil extracted from the plant inhibited 19 of 25 investigated bacterial strains, showed good efficacy against four strains and only had to admit defeat in two cases. Thus, oregano is considered to be a natural broad-spectrum bacteria killer.
Broad-spectrum bacteria killer
The advantage of oregano compared to other compounds is the relatively low effective dose and the neutral flavor in meat, milk and eggs.
Especially, the low dose is remarkable for use to control fungi: The dose required to eliminate 99.9 percent of Candida is 111 times lower than with the standard medication (calcium-magnesium-caprylate). In other cases, a concentration of 0.1 percent or 0.01 percent is already sufficient to eliminate 90 percent of Candida.
The laboratory values can generally be transferred to practical use in cattle farming; however, some restrictions may apply.
In the case of salmonella, although oregano is very effective at inhibiting the spreading of salmonella in the barn, these bacteria are not only found in the livestock but also in alternate hosts, which makes control more difficult.
This did not detract from the triumph of this natural product; oregano is being used in commercial livestock farming more than ever. Incidentally, it is used mainly for prevention until slaughtering day, since it is possible without altering the flavor of the animal product and without record in the medication log.
As a side effect, oregano stimulates the animal's appetite and prevents premature spoilage of the feed. Oregano also leaves no detectable flavor in milk and milk products.
Several manufacturers share the market. Our company was one of the first to work with the processing of oregano for livestock farming.
In terms of cost, the conversion to natural products is economical, as demonstrated by numerous examples from organic and conventional livestock farming.
The administration is simple since the active substance is only added to the feed or drinking water. There is no danger of an overdose and there are no known cases of resistance.
Intestinal stability
Oregano has also proven itself for preventative and therapeutic use to stabilize the intestines of barn animals. Compared to conventional compounds, oregano is usually more economical, and as a bonus, it does not pose a health hazard.
A study shows that oregano is very effective when administered as a feed supplement. Oregano was given to a group of calves (43 animals) that had diarrhea. Already after one treatment, 58 percent of the animals were free of symptoms.
The rest of the animals were healed after the second dose. Although these results were also obtained in the control group, they were only obtained with the use of a hard "chemical cocktail" consisting of Baytril, Bacolam and Biosol.Diarrheal disease is generally caused by infections, parasites or bacterial toxins. It can be recognized by frequent bowel movements that tend to be of liquid consistency and sometimes severe pain in animals.
Diarrhea requires immediate treatment, since fluids and minerals are flushed out of the body due to the reduced water-absorbing capacity of the intestinal cells. Dehydration and loss of electrolytes could ultimately lead to the death of the animal.
Respiratory disease
Another field of application is respiratory disease caused by bacteria or viruses. However, the animals are only susceptible when the farmer creates the conditions that lead to infection.
For this reason, the surrounding conditions should be checked before using medication (or oregano as a substitute).
A crucial point here is insufficient hygiene. Direct contact between persons and animals should be restricted as much as possible in order to reduce the introduction of pathogens.
Also, reducing human traffic through all the operating areas can help to prevent the spreading of existing pathogens. Animals themselves are also carriers.
It is always risky to freshen up the population with purchased animals. If it cannot be avoided, animals should only be bought from one or a few (known) suppliers, which restricts the spectrum of potential pathogens.
Stress factors, such as drafts through doors or windows that do not close properly or uncoordinated opening of doors or windows, may promote the occurrence of disease. For this reason, ventilation should be optimally adjusted.
This keeps the air temperature constant, so that the animal does not need to mobilize its reserves to compensate for cooling. Cleanliness is always key. In the barn, this means that droppings should not be left to lie longer than necessary to keep the air free of ammonia.
Pay attention to dust in general, as it has a highly irritating effect. The primary stress factors also include the mobilization of the population. Thus, changes of building and transportation should be avoided as much as possible.
Altogether, it is important to protect animals' immune systems and mucous membranes. This also prevents secondary diseases, for example, those of the intestinal tract.
The majority of these measures can be accomplished without additional costs simply by reorganizing the operating procedures accordingly. If one wants to reduce the risks even more, the biological oregano compounds can be added to the drinking water or sprinkled around the barn. Parallel to this, animals can also be immunized. Antibiotics should only be administered if a large portion of the population is infected.
Those who implement these preventative measures could save a lot of money:
Respiratory disease not only counts among the most frequent of diseases but also among those that cause the most economic losses, since they inhibit animal growth.
Appetite-stimulating effect
Oregano has also proven itself to be effective against constipation, flatulence and loss of appetite. The latter is a welcome side-effect of the treatment.
It can be attributed to its aromatic properties, which intensify the flavor of the feed and thus increase the feeding instinct. The effect was observed in all of the examined animal species.
The effort is worthwhile from an economical point of view since the increased yields generally are opposed to relatively low costs.
In this context, there is also the use of oregano in total mixed rations (TMR). The homogeneous distribution system consisting of basic and concentrated feeds provides animals with the required components and simplifies animal maintenance.
Although the mixture produced in the feed mixer improves the return per unit, it is not without its problems in the summer. This is due to fermentation processes in the ration that reduce feed intake.
Added oregano acts against this: Certain components of the plant provoke a biochemical reaction that reduces the reheating of the feed. The aromatic addition also increases the palatability of the feed and thus increases the animal's appetite.
At the same time, the stimulation of salivation improves feed conversion and animal health:
Saliva contains sodium bicarbonate, which has an acid-moderating effect in the rumen. The required amount of oregano administered in powder form is low.
Climate protection side effect
Only a few months ago, scientists from Penn State surprised the world with the discovery that cattle farmers can make a great contribution to climate protection with little effort.
In a study carried out on Holstein cows, it was shown that a small amount of oregano in feed can reduce the exhalation of methane gas from animal stomachs by 40 percent.
Undesirable side-effects were not observed. On the contrary, cows increased fat-corrected milk production by almost 4 percent.
Conclusion
These examples show that cattle farmers today have good alternatives to the often problematic chemical compounds for the treatment of disease and to increase performance.
Although oregano use had decreased in the last decades due to the industrial production of antibiotics and other chemical products, their use has fortunately been increasing again due to the worldwide trend towards healthy food produced in an animal-friendly way, as well as the increasing yield pressure.
---

---
Unternehmensdetails
True Leaf Medicine International Ltd.
100 Kalamalka Lake Road, Unit 32
Vernon, British Columbia V1T 9G1, Kanada
Telefon: +1 778-389-9933
Email: kevin@trueleaf.com
www.trueleaf.com
Aktien im Markt: 54.346.536
Kanada-Symbol (CSE): MJ
Aktueller Kurs: $0,26 CAD (18.11.2016)
Marktkapitalisierung: $14 Mio. CAD
Deutschland Symbol / WKN (XETRA): TLA / A14NM1
Aktueller Kurs: €0,162 EUR (18.11.2016)
Marktkapitalisierung: €9 Mio. EUR
---
Report Übersicht
Report #18 "True Leaf startet Produktion, Verkauf und Marketing in Europa dank erstem Grossauftrag"
Report #17 "True Leaf hat gerade erst begonnen Wurzeln zu schlagen (um danach gross zu wachsen)"
Report #16 "Neuer Vertriebskanal: True Leaf Produkte werden jetzt auch online verkauft"
Report #15 "Hanf für Hunde: True Leaf aus Kanada bringt besonderen Leckerbissen zur Interzoo Leitmesse für die internationale Heimtierbranche"
Report #14 "True Leaf gibt Gas und bringt True Hemp nach Europa"
Report #13 "True Leaf erobert den US-Tierfuttermarkt"
Report #12 "True Leaf verkauft Hanfprodukte in 3500 US-Geschäften"
Report #11 "True Leaf Produkte nun in 47 Geschäften in Kanada erhältlich"
Report #10 "True Leaf verkauft schnell"
Report #9 "True Leaf expandiert nach Europa"
Report #8 "True Leaf enthüllt neue Produktlinie"
Report #7 "Ein wichtiges Puzzle-Stück für den sich anbahnenden Erfolg von True Leaf"
Report #6 "True Leaf hat den kanadischen Vertrieb für eigene Hanf-Produktlinie sichergestellt"
Report #5 "CEO-Interview mit Darcy Bomford"
Report #4 "True Leaf auf bestem Weg zum lizenzierten Marijuana-Produzenten in Kanada"
Report #3 "True Leaf Medicine will in Produktion gehen"
Report #2 "True Leaf will im Herbst 2015 den Markt für Tiernahrung mit Hanf bereichern"
Report #1 "True Leaf geht an die Börse"
---
Bleiben Sie auf dem Laufenden!
Für Smartphones und Tablets veröffentlichte Rockstone eine App im AppStore und im GooglePlayStore.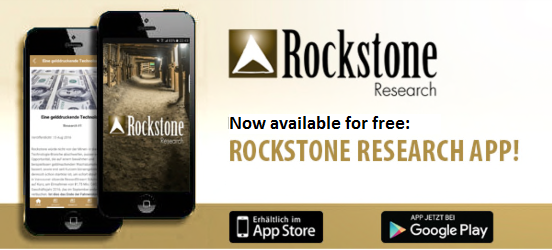 Disclaimer: Bitte lesen Sie den vollständigen Disclaimer im vollständigen Research Report als PDF (hier), da fundamentale Risiken und Interessenkonflikte vorherrschen.