It´s shaping up to be a good year for Princeton based operations of Canadian Zeolite Corporation, whose product has caught the attention of the medical marijuana market of late. Above are some of the company´s operations west of Princeton. Image Credit: Canadian Zeolite Corporation / Youtube video


PRINCETON - A local industrial mineral producer is enjoying a heightened business profile as the medical marijuana industry shows interest in its product.
Princeton-based Canadian Zeolite Corporation is finding a market niche among marijuana growers searching for zeolite, a naturally occurring micro porous industrial mineral mined in southern B.C. for its natural absorptive properties.
One of the corporation's newest customers was announced in late November with a deal to provide zeolitic fertilizers to Natural Ventures, a licensed grower and manufacturer of medical marijuana, located in Puerto Rico.
Then in late December, Southern California-based cannabinoid innovator Isodiol announced in a media release it had reached an agreement with Canadian Zeolite Corp. to research and develop cannibinoid-infused Zeolite products, intended for human and animal consumption.
While Canadian Zeolite Corporation Chief Executive Officer Ray Paquette admits the medical marijuana industry's interest has benefitted shares in the company, he's quick to point out that is not his company's main target market.
"People isolate our product to the marijuana market because it´s in vogue right now. It's a market we are certainly interested in, but it's not zoned to be our specific market," he says, adding zeolites are useful as a growing medium for most plants.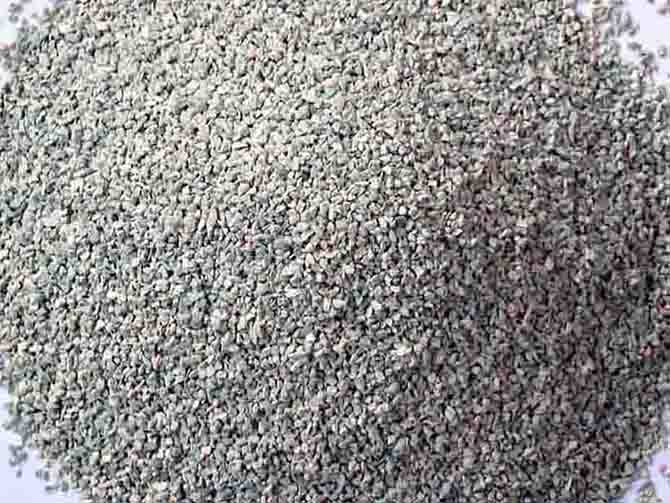 Zeolite is an industrial mineral with high absorption properties which has a wide range of applications in the filtration, growing and animal feed industry. The Canadian Zeolite Corporation currently controls two deposits located west of Princeton. Image Credit: Wikimedia commons


Paquette says his company´s stock (CNZ on the TSXV) traded between 9 cents and $1.95 last year, and is currently trading around $1.10 to $1.15.
The corporation owns two large zeolite deposits west of Princeton. The Bromley Creek project is currently operating on a 30-year, 50,000 ton per year quarry permit. The company also has the 949-hectare Sun Group Zeolite deposit further west of Princeton.
The Sun Group´s deposit was recently bisected by road reconstruction, which realigned Highway 3 right through the company's mining lease.
"We worked closely with the highways ministry during the construction," Paquette says, noting the realignment has enhanced the company's loading and unloading operations.
Paquette says his focus this year will be to further develop two other significant markets for zeolites, which show great promise as an additive in animal feeds as well as in reducing odours in municipal composting operations.
Paquette says the company recently received certification for use in animal feeds, a 30 million ton annual market.
"Under our supplement certificate, we can supply up to two per cent zeolites into gross volume of animal feed," he says, adding the addition of the mineral provides improved animal health, including weight gain, better hygiene, and lower methane emissions.
Paquette is also interested in making further inroads to municipal composting following a trial operation at Ontario's Peel Region outdoor composting facility that showed an 85 per cent reduction in composting odour after the introduction of zeolites into the composting process.
The zeolites also provide the recycled compost with its water retaining qualities.
"That's one of the most significant markets for us. Every municipality in Canada is trying to go green, and everyone downwind of these operations is paying the price in having to put up with the odour," Paquette says.
Other customers include the water treatment and aquaculture industry. Paquette says the company's story is getting out, and gaining acceptance by the green tech industry.
"I think we're going to have a really good year," he says.
Source: http://infotel.ca/newsitem/medical-marijuana-industry-shines-spotlight-on-princeton-mineral-producer/it38351