Lithium demand by end use - 2015 Source
Summary
The pure play junior lithium miners have been falling lately despite the lithium spot price remaining flat.
Five possible reasons to explain the recent falls.
My views on what will happen next, and which lithium miners to buy.
The past month has seen many of the junior lithium miners stock prices fall, despite the lithium spot price moving sideways. Many of my followers have asked me what is going on. I discuss some possible reasons for this and why I think investors should be topping up their lithium positions now.
Looking at the above graph investors are reminded that lithium is used in many industries, with batteries around 40% and electric vehicles ((EVs)) accounting for under 20% of demand (based on my model). Lithium is currently a critical metal and is highly sought after by many industries, including the expanding consumer electronics industry, glass, and grease industries. Surging new demand is coming from EVs and energy storage.
Lithium spot prices stable
99.5% Lithium carbonate China spot prices for the past 6 months have been very stable. Returns are shown below.
| | | | | |
| --- | --- | --- | --- | --- |
| | 1 month | 2 month | 3 month | 6 month |
| LiCO3 % change | +0.64% | +1.04% | +1.43% | +1.70% |
Source: AsianMetal.com
The junior lithium miners falling stock prices in February and March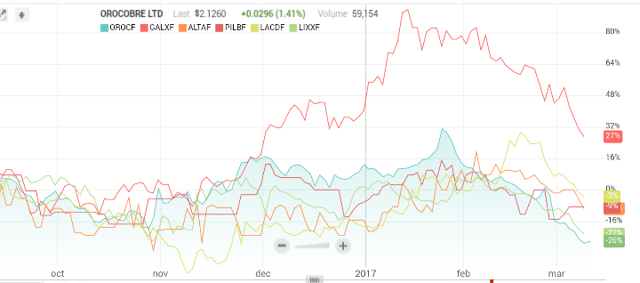 Source: Nasdaq.com


We can see from the graph above the price falls were worst in February. Orocobre (OTCPK:OROCF, ASX:ORE, TSX:ORL) was perhaps the worst hit, however Galaxy Resources (ASX:GXY) (OTCPK:GALXF), Altura Mining (ASX:AJM)(OTCPK:ALTAF), Pilbara Minerals (ASX:PLS) (OTC:PILBF), Lithium Americas (TSX:LAC) (OTCQX:LACDF) and Lithium X (TSXV:LIX) (ROCEF) (OTCQB:LIXXF) amongst others, were hit hard. The fall was across most of the junior pure play lithium miners. It has affected the Australian and the Canadian miners, the brine and the spodumene plays, the producers, developers and explorers indiscriminately. In other words it has been a sector wide fall across the lithium juniors. The only exception is the large diversified lithium miners such as Albemarle (NYSE:ALB), SQM (NYSE:SQM) and FMC (NYSE:FMC) that have been spared, as well as the Chinese Gangfeng Lithium (SHE:002460) and Chengdu Tianqi Lithium (SHE:002466). So it appears the pure play junior lithium miners is the common theme of those that got hit. Interesting that the Chinese lithium stocks rose, while the Chinese EV sales fell.
Why are the lithium miners falling when the spot prices are flat?
I have the following five reasons that may help explain why the lithium miners have been falling lately:
-- The first, and main reason, is most likely the Chinese January 2017 electric vehicle sales slowdown.
Given EV sales (led by China) are the main driver of lithium demand growth I can fully understand why the market has reacted this way. January 2017 Chinese EV sales were an abysmal 6,260, a fall of over 50% from January 2015 sales of 15,275. After a terrific December for both China and global EV sales, the January figure came as quite a shock.
-- As a follow on from the above dot point, the lithium sector may have taken a view that lithium demand may not be as strong as what was previously thought.
This can lead to a flight to safety towards the larger more established lithium producers away from the juniors.
-- A third reason is that Orocobre and to a lesser extent Galaxy Resources production numbers have recently been disappointing. Also Orocobre lowering FY17 production guidance.
Orocobre lowered FY17 production guidance to 12-12,500 tonnes (from 15,000) due to production issues ("pond inventory management requirements"). Also FY18 guidance (albeit significantly higher) included selling some lower quality (technical grade) lithium (that sells at lower price), and their planned hydroxide plant.
Galaxy Resources second shipment of spodumene was delayed due to bad weather and road closures. Galaxy has guided for 160ktpa of spodumene in 2017. So far they have delivered 10kt and 14kt, totaling 24kt after 2 months, which is slightly behind schedule.
-- A fourth, but unlikely reason, is that the federal Government in Argentina is considering a new 3% royalty on the miners operating in Argentina.
Bloomberg reported on March 7, "Further fueling investor interest is a set of standardized rules for provinces that Meilan said will probably be in place by June or July. Under an accord negotiated between the federal and provincial governments -- which own the minerals in their territories -- miners will be charged a royalty of as much as 3 percent, he said. The agreement still needs congressional approval." I say unlikely, as a 3% royalty is not onerous, and President Macri has been very pro-mining and investment. Also some of the lithium miners with no Argentina exposure have also been down lately.
-- A fifth reason may be that many of the lithium investors have shifted funds towards the red hot cobalt miners sector.
What will happen next?
While I have no crystal ball, commonsense makes me conclude:
The Chinese EV sales slowdown will only be temporary. Many buyers would have rushed to buy in December to beat the 20% subsidy cut, expecting manufacturers to increase prices in 2017 to compensate for the loss of the 20% subsidy. Added to this many EV manufacturers were having licensing issues due to the backlash from the 2016 subsidy scandal. Other companies such as BYD Co (OTCPK:BYDDF) (OTCPK:BYDDY) (the 2016 No 1 EV seller) were rumored to be "preparing new batteries with a different chemistry (NMC?)... It seems BYD took this waiting period to make big changes and pause manufacturing." Given the level of uncertainty over prices by customers, and license issues by manufacturers, it is not at all surprising Chinese EV sales were low in January.
The lithium miners stock prices will rebound back strongly (very soon) as Chinese EV sales start to recover again. Around mid to late March we should start getting the results for Chinese EV sales in February. Whilst February is a shortened month, I expect we will see some pick up in sales as the market normalizes after the subsidy cut back. By May or June the Chinese Government is expected to announce a ZEV credit system. You can read my views on that here, but briefly I expect this to accelerate Chinese EV sales.
H2 2017 will see the Tesla (NASDAQ:TSLA) Model 3 production begin, the General Motors (NYSE:GM) Chevy Bolt rise in popularity, and bring a huge boost to the EV and lithium miner industry. US and European EV sales should continue to have a strong year, and perhaps a record year in the US.
2017/18 will see an accelerated rollout of the EV charging network in China with 800,000 new charging points planned, as well as more progress on home chargers in high rises. Energy storage growth should continue to be robust, following a good 2016 which saw US energy storage capacity double. This will also help sentiment towards the lithium miners.
Which lithium miners should I buy?
As to which miners to buy that is up to you, but my top 12 lithium miners article can be a guide. Certainly Orocobre and Galaxy Resources who are both current pure play lithium producers look very good value, assuming they can get their production on track. Of the near term producers Lithium Americas looks a bargain, and beyond that Lithium X, and Neo Lithium (OTC:NTTHF) (TSXV:NLC) have huge potential.
To follow the lithium miners you can tune in to my regular monthly lithium miner news here.
UK electric vehicle boom drives new car sales to 12-year high. Sales of EVs reached 4.2% market share.
Conclusions
Currently the EV and energy storage markets contributes to less than 20% of lithium demand. However strong EV and energy storage growth, backed by 14 new lithium ion battery megafactories has the promise to create a huge demand for lithium. Global lithium ion battery production is forecast to grow by 521% between 2016 and 2020.
The Chinese EV sales slowdown of January has spooked many investors to question this growth, and ask if it is purely subsidy driven. My response is that EV and energy storage at currently under 1% penetration rate, are still in the 1st innings of a 9 innings game. There will be set backs along the way, however the EV and energy storage industries have now established enough momentum and support at all levels (government, industry, and consumer) to ensure they continue to grow.
I have pulled back my projected rate of EV growth to 5% EVs by 2020, 20% by 2025, and 45% by 2030. Based on that projection total lithium demand would increase around 2.5 fold by 2020, to around 450ktpa. At this rate of growth there will be sufficient demand to meet the supply from the current and soon to be producers.
If you are a believer that EVs will reach near 5% market share of new car sales by 2020 (currently they are approaching or exceeding that level in some European regions, with Norway at 35%), and lithium ion battery energy storage will continue to grow strongly, then right now is a great time to buy the dip in the junior lithium miners. The fundamentals have not changed, we have just hit a small pot hole along the highway towards electrification.
As usual all comments are welcome.
Disclosure: I am/we are long ALBERMARLE (ALB), OROCOBRE (ASX:ORE), GALAXY RESOURCES (ASX:GXY), PILBARA MINERALS (ASX:PLS), LITHIUM AMERICAS (TSX:LAC), LITHIUM X (TSXV:LIX), ALTURA MINING (ASX:AJM), CRITICAL ELEMENTS (TSXV:CRE), INTERNATIONAL LITHIUM CORP (TSXV:ILC), SAYONA MINING (ASX:SYA), NEO LITHIUM CORP (TSXV:NLC).
I wrote this article myself, and it expresses my own opinions. I am not receiving compensation for it (other than from Seeking Alpha). I have no business relationship with any company whose stock is mentioned in this article.
Additional disclosure: The information in this article is general in nature and should not be relied upon as personal financial advice.
Editor´s Note: This article covers one or more stocks trading at less than $1 per share and/or with less than a $100 million market cap. Please be aware of the risks associated with these stocks.
Source: http://seekingalpha.com/article/4054237-time-top-junior-lithium-miners