If you're looking for exceptional Cobalt opportunities in Canada, no junior is better positioned at the moment than technology-driven Castle Silver Resources (CSR, TSX-V) with the deepest roots in this country's richest Cobalt region – northern Ontario.
Last week, CSR bucked the Venture weakness as it broke out above resistance in the mid-20's with news of a major underground program of drilling and sampling plus creative plans to create a suite of Cobalt products through a game-changing 100%-owned hydrometallurgical process called "Re-2OX". Designed for high recovery of multiple metals and elements from all feeds with varying chemistries, Re-2OX was developed in conjunction with the National Research Council (NRC), the Government of Canada's premier research organization supporting industrial innovation.
Significantly, Re-2OX is extremely adaptable, and CSR owns a past producing mine where it can immediately source Cobalt from underground. Re-2OX will convert Cobalt concentrates into value-added, client-specific products (high purity powders) that CSR plans to test market with battery manufacturers. In addition, SGS Lakefield is testing the Re-2OX process for its potential in revolutionizing how recycling is carried out with spent Lithium-ion batteries.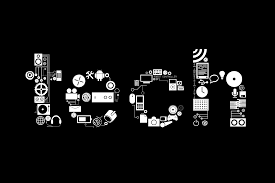 Throw in the upcoming drill program, together with the underground sampling, and there's enough news flow, sizzle and excitement for CSR to capture a much broader audience in the days, weeks and months ahead. Combined with excellent results, that's what creates massive winners in the market. CSR has soared 293% this year, and has the most momentum of any stock in the northern Ontario Cobalt region, but what's even more significant is CSR's current $10.3 million market cap – extremely modest compared to some of its neighbors and peers in the industry including Scientific Metals (STM, TSX-V) at $45 million. CSR is just being discovered, and its advantages in terms of technology and critical underground access truly make it the new "Go-To" play among Cobalt stocks focused on Canada.
Castle Mine Gives CSR First-Mover Advantage Underground In Northern Ontario Cobalt Camp
CSR is no newcomer to the Cobalt market or northern Ontario, the world's 3rd-highest Silver producing region as late as the 1960's and a strategic supplier of Cobalt for Canada's critical Second World War efforts.
Cobalt, Ontario, was the birthplace of Canadian hard rock mining after a major high-grade Silver discovery in 1903 sparked a boom even more significant and dramatic than the Klondike Gold Rush. Fortunes were made as more than 100 mines sprung into operation. The town of Cobalt became so famous, even the Royal Canadian Navy named a warship after the community – the HMCS Cobalt, commissioned in 1940.
Cobalt mineralization in this region is intimately associated with Silver, but historic operators focused almost exclusively on the more valuable Silver which was also easier to recover. Miners simply used the quartz-carbonate "Cobalt" veins as a "tracer" to find what they were most interested in, the exceptionally high-grade Ag. Much Cobalt, therefore, was left behind, and that's why there's so much interest in this region now – yes, there are likely still vast quantities of Silver to be discovered beyond the 600+ million ounces already officially produced through 1990, but the potential for this region to supply the world with much-needed Cobalt in this age of new technologies is profound. Cobalt prices are now at levels not seen in nearly a decade, and more than 50% of global supply comes from the unstable Congo. Grades in northern Ontario are also higher by orders of magnitude.
In its original form as a subsidiary of another Venture-listed company 6 years ago, CSR began to systematically lay the foundation for what it viewed as an emerging Cobalt market fueled by technology with big future opportunities in Silver as well. Beginning in 2011, approximately $4 million was invested in 2 of the company's key properties, both prolific past producers operated as recently as 1990 by Agnico Eagle (AEM, TSX) before the major suspended operations throughout the region due to plunging Silver prices. Just over 2 years ago, Venture-listed Takara Resources acquired the assets of Castle Silver Mines Inc. and then Takara was renamed Castle Silver Mines (CSR, TSX-V) late last year.
CSR's flagship Castle mine near Gowganda has an all-important closure plan with the Ontario government and First Nations agreements are also in place. The main portal has been opened and the company has been granted full access to the first level at 21 m (70 feet) which extends approximately 365 m east-west and 360 m north-south. An extensive network of tunnels, developed through a major financial investment many years ago, remains in excellent condition. Only minor rehabilitation is necessary. The mine features 11 levels and covers a massive footprint.
Visible Cobalt in veins that pinch and swell and continue intermittently throughout the first level has been noted by CSR's exploration team, which is consistent with BMR's observations during a recent site visit as well as comments in a large amount of invaluable historical Agnico Eagle data acquired by CSR. Core was never assayed for Cobalt, or any other metal for that matter, but historic drill results returned Silver grades as high as 1,750 ounces per tonne from the first level. Mining in the 1980's was carried out at an average grade of 26 ounces per tonne Ag, more than 700 g/t.
CSR is immediately gearing up to launch its program of underground drilling and sampling at the Castle mine.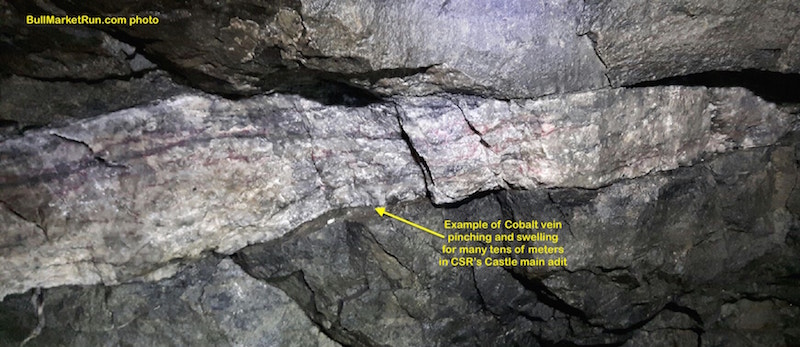 Technology-Exploration-Recovery Creates CSR Cash Flow Possibilities
CSR is focused on using its competitive advantages with regard to Re-2OX and its underground access to develop the leading Cobalt brand in Canada.
"With underground access at Castle, a unique hydrometallurgical process and other properties in this district where we have developed deep roots, CSR is powerfully positioned in northern Ontario's prolific Cobalt-Silver corridor stretching from Gowganda to Cobalt and Silver Centre. We are leveraging our strengths to capture exciting opportunities related to exploration, potential development and clean technology," stated President and CEO Frank Basa, a hydrometallurgical expert who had multiple roles with Agnico Eagle in this district in the 1980's. Basa has assembled an all-star team of geological, metallurgical and mining experts who have decades of experience including renowned underground miner Jacques Monette and geologist Doug Robinson who knows the district like the back of his hand.
Exploration stocks with an interesting tech twist can really capture the imagination and excitement of investors, and that's what we see unfolding with CSR in the very near future. In addition, the company is starting to reach out aggressively to new markets outside of Canada to tell its story.
Powerful 1-2-3 Punch!
-- Re-2OX for exceptional mineral recovery, energy market and clean tech opportunities;
-- Upcoming underground drilling and sampling – tremendous news flow and high-grade mineralization given history of Castle mine;
-- Excellent share structure – only 37.5 million shares outstanding.
Conclusion
There are multiple moving parts to the CSR story, including the high-grade Beaver mine near the town of Cobalt, which will keep investors vigorously engaged in the months ahead – critical in terms of building shareholder value. The company is fully funded for its upcoming programs.
If "CSR Rocks with Re-2OX" is one of our upcoming headlines, then investors' success to date with this play will lead to a summer of celebration.
Note: John, Jon and Daniel hold share positions in CSR.
Disclaimer:
BullMarketRun.com (BMR) is subscriber-funded, we accept no advertising on our site, and no fee was paid to BMR or its associates for the creation or distribution of this report. Our stock coverage is for informational and entertainment purposes only and must not be viewed or interpreted as "buy", "sell" or "hold" recommendations. No investment opinion or other advice is being rendered on any stock or company. We strongly recommend that you consult with a qualified investment adviser, one licensed by appropriate regulatory agencies in your legal jurisdiction, and do your own due diligence and research before making any investment decisions. The stocks we cover, by definition, are highly speculative and potentially very volatile. Investors are cautioned that they may lose all or a portion of their investment if they make a purchase or short sale in these speculative stocks. We are not Registered Securities Advisers. Our opinions can only be construed as a solicitation to buy and sell securities when they are subject to the prior approval and endorsement of a Registered Securities Adviser operating in accordance with the appropriate regulation in your area of jurisdiction. It should be assumed that BMR personnel, writers and their associates may hold or dispose of or trade in positions in any securities mentioned herein at any time. Owner/Publisher of BullMarketRun.com is Terry Dyer of Langley, British Columbia.
Forward Looking Statements:

All statements in BMR's reports, other than statements of historical fact, may be forward-looking statements. These statements relate to future events or future performance. Forward-looking statements are often but not always identified by the use of words such a "seek", "anticipate", "plan", "continue", "estimate", "expect", "may", "will", "project", "predict", "potential", "targeting", "intend", "could", "might", "should", "believe" and similar expressions.