Core from phase-1 drilling at Dyke #1 on the Zoro Lithium Property in mining-friendly Manitoba, returning 23 m @ 1.1% Li2O (note the large white to greenish lithium-bearing spodumene crystals)
Having announced results from its phase-1 drill program at Dyke #1 on January 9, Far Resources Ltd. also mentioned that "a crew is immediately being mobilized to undertake a field assessment" of 6 additional spodumene-bearing pegmatite dykes outcropping on the Zoro Property near Snow Lake in Manitoba. It was also noted that management will have meetings in Vancouver during the AME Roundup 2017 on January 23-26 in order to plan ongoing exploration and drill programs.
Last week, Thomas Schuster of Rocks To Riches, who also works as a consulting geologist and mining analyst for Mackie Research Capital, issued a report on Far Resources with the following bottom line:
"Far Resources is a savvy Junior Explorer that has acquired two quality projects that should capture the market's attention. If the company continues to successfully advance these projects and improve their economic potential, I believe investors will be rewarded for their loyalty."
Schuster´s report included core pictures from the phase-1 drilling at Dyke #1:
The report also showed a picture from channel sampling one of the outcropping pegmatite dykes on the Zoro Property:
Schuster concluded as follows:
"Applying a numeric valuation to Junior Resource companies like Far Resources is meaningless. Their valuation rises and falls with market sentiment. There are number of key factors to look for when choosing to invest in a junior company.
Naturally these factors revolve around management, capital structure and project specifics. One other factor that is often overlooked is commodity sentiment. If a company is able to acquire quality projects during the early stages of specific commodity resurgence, (like lithium), these companies often out-perform other players who jump on the bandwagon later on.
I believe Far Resources has managed to acquire a quality hard-rock lithium project that has been overlooked and undervalued. The company's Zoro lithium project hosts lithium mineralization in a series of pegmatite dykes that have only been partially assessed. The Principal or westernmost dyke has seen the most exploration and has a historic and non-compliant NI-43-101 resource with 1.8 million tonnes averaging 1.4% Li2O. Far Resources is confident it can upgrade the quality of these resources (to NI-43-101 standards) and even expand them. Based the fact that only one of seven lithium-bearing dykes has seen any significant work I believe Far Resources should be able to easily achieve this goal.
Lets put some perspective on this. The much more advanced Whabouchi lithium pegmatite deposit in Quebec, (owned by Nemaska Lithium), has an open pittable measured and indicated resource with a grade of 1.57% Li2O contained in 28 million tonnes of material. Nemaska has a Market Capitalization of $446 million. It has a much more advanced project with higher tonnages and slightly higher grades. Far Resources has a market capitalization of only about $4 million. If Far can advance its Zoro project and show its has a potentially economic resource with good metallurgy, the company will undoubtedly be rewarded in the market. Probably not 100-fold like Namaska, but I'm sure most investors would be more than happy with just a fraction of that valuation.
As an added bonus, the company has also acquired two high-grade past producing gold/silver mines in New Mexico, that have very compelling stories Neither of them has been fully explored and each has the potential to add value to the company as they are advanced.
Based on the quality of Far Resources', management team, its projects and the current stage of the commodity cycle, I believe the company will do well for its shareholders."
The full report is available below:
About Thomas Schuster
With a degree in Geological Sciences from the University of Toronto, Thomas started his career in the early 1990s as an exploration geologist in the famous Timmins mining camp in Northern Ontario. He then moved to Vancouver and took a position as staff Journalist at the well-known mining publication, The Northern Miner, reporting the merits and shortcomings of Canadian exploration and mining projects worldwide. This built a foundation for his later work as a Mining Analyst for the Toronto-based institutional investment firm, Fraser Mackenzie. Thomas is currently based in Vancouver working as a consulting mining analyst. Check out his professional profile and connect on LinkedIn. For more information please visit www.rockstoriches.ca
Disclaimer: Please read the full disclaimer here.
---
Company Details
Far Resources Ltd.
Unit 114B – 8988 Fraserton Court
Burnaby, BC V5J 5H8 Canada
Phone: +1 604 805 5035
Email: info@farresources.com
www.farresources.com
Shares Issued & Outstanding: 57,191,556
Canadian Symbol (CSE): FAT
Current Price: $0.07 CAD (01/24/2017)
Market Capitalization: $4 million CAD
German Symbol / WKN (Frankfurt): F0R / A2AH8W
Current Price: €0.046 EUR (01/24/2017)
Market Capitalization: €2.6 million EUR
---
Previous Rockstone Coverage
Report #3: "Far Resources drills 23 m of 1.1% Li2O and gets ready for 6 additional pegmatites" (January 9, 2017)
Report #2: Far Resources gains momentum with drill results pending from its Zoro Lithium Project in Manitoba (December 6, 2016)
Report #1: Drill Results Pending From a Potentially World-Class Hard-Rock Lithium Project (November 22, 2016)
---
Stay Tuned!
For smartphones and tablets, an APP from Rockstone Research is available in the AppStore and in the GooglePlayStore.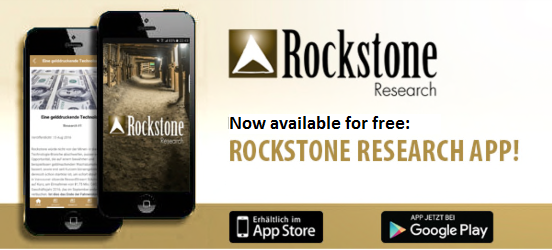 Disclaimer: Please read the full disclaimer within the full research report as a PDF (here) as fundamental risks and conflicts of interest exist.